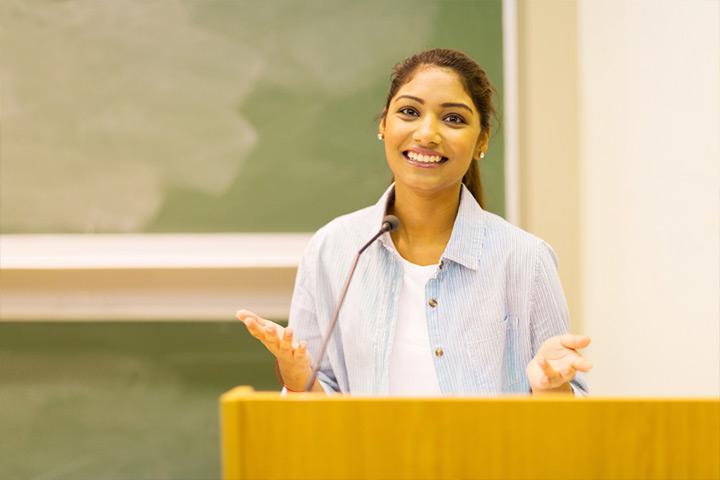 Band Score Breakdown: Speaking
For our final post in this series, we will take an in-depth look at what CAEL band scores mean, by discussing each of the four components of the test. Our previous posts focused on reading scores, writing scores, and listening scores. Today's post will focus on speaking scores.
Reporting Scale: Speaking
Band Score

Performance Summary

80-90

Expert – Fluent

Speaks with authority on a variety of topics. Demonstrates flexibility, controls nuance and speaks with spontaneity and comprehensibility.

70

Adept

Speaks with ease presenting information clearly and logically.

60 

Advanced

Speaks fluently, flexibly and with a degree of ease. Compensates strategically for limitations but communicates most required information clearly.

50

High Intermediate

Speaks with some fluency and flexibility but speaks
unevenly; at times there is a natural easy quality to the response but at other times the response breaks down.

40

Intermediate

Can speak with some fluency but without flexibility and with noticeable effort.

30

High Beginner

Can speak but with false starts, hesitations and some mispronounced words. Provides studied and careful responses.

10-20

Low Beginner

Communicates some information but mispronounces many words and speaks with great difficulty and many long pauses.
As you can see from the chart above, there are key differences between each score level, especially when it comes to issues such as fluency, flexibility, and comprehensibility. In order to improve your scores, and earn a higher score for each test component, we suggest adopting a comprehensive preparation strategy that includes the following:
Improving Your Scores
Create a daily study routine. As we outline in our Study Tips videos, taking even 5 minutes each day to focus on improving your English language skills can make an impact in your score. We have a comprehensive list of strategies for each test component, take some time to review these suggestions.
Take a free online practice test. This free test will give you a good idea of your current score level, and will allow you to focus on areas that you need to improve upon.
Attend a free online course. For each test component, we have hours of free online courses and webinars, hosted by a CAEL expert. These online courses are available live and on our YouTube channel.
Purchase additional CAEL study materials. We have created a wide range of study materials to help you prepare for your CAEL test, from additional practice tests, to Accelerate, our self-directed online study program, to CAEL Practice Test Plus, a complete practice test that includes sample responses and analyses.
Enroll in a CAEL preparation program. Contact your local test centre to see what preparation programs are available in your area and online.
Conclusions
Familiarizing yourself with the reporting scales for each test component will help you determine how to improve your scores, and what is required to achieve a higher score.
For information about the reporting scales for each test component, visit our results and scoring page
Improving your score will take preparation and a study routine. Learn more about study tips, preparation materials, and more to help you craft a successful study routine.